Areas of the pattern making profession
Art and trade of pattern making
The different variants of pattern making derive from classical foundry pattern making in its various forms and uses. Patterns and pattern assemblies are made for foundries and mechanical engineering companies which use them in hand molding processes or machine molding lines for any customary castable metallic materials. Patterns range from hand-holdable ones made of wood or plastics, complex patterns consisting of various core boxes for large machine parts through to mold plate assemblies for series production of castings such as engine blocks or machine components. In addition to classical pattern making skills, modern manufacturing methods such as CNC milling and turning, rapid prototyping and CAD systems are used to optimize the manufacturing process and the result. Growing and ever more specific requirements have led to the development of specialist manufacturing variants alongside classical foundry pattern making.
Pattern making for the automotive industry
This includes cubing models, master and mounting gages, patterns of metal forming tools as well as patterns and prototype series for vehicle interior equipment.
Pattern making for the manufacturing industry
This includes the making of patterns that simulate the components to be manufactured as well as the tools and tool assemblies used to manufacture these components. Based on these patterns, injection and casting molds for the production of metal or plastic components are made. These patterns are also used to make pre-series parts and prototypes. Also mold making for parts made of laminate materials, plastics or castables has its roots here.
Pattern making for presentation purposes
Here pattern making skills and techniques are used to make models for presentation and demonstration purposes of any kind, for example architectural models for urban planning projects or true-scale replicas of machines and instruments. Especially for demonstration and presentation models, a perfect design of the surface is crucial to achieving a most realistic effect.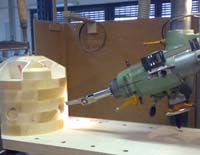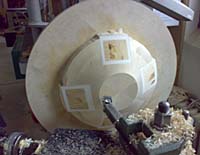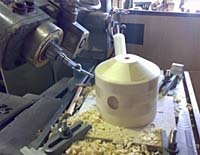 Today, pattern making requires the skills and expertise from many different disciplines which all act together. The extremely wide spectrum of applications and specific requirements call for a good deal of technical expertise and the willingness to try out and develop new techniques.
EPS (polystyrene) molded parts
Parts molded from EPS are made using computer-controlled hot wire cutters.These molded parts are made for very different uses, e.g. foundry patterns, cores for refractory linings, one-way molds for making concrete pre-cast components, special packaging solutions or product models.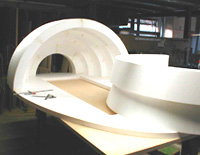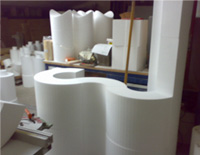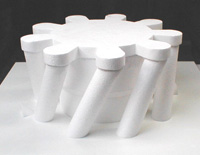 We design the components using CAD technology and cut out contours or elements. These are often combined to form complex geometries and may come with a sealed or paintable surface, depending on the application and customer requests.
Tooling and assembling aids
As a matter of course, we also supply tooling and assembling aids made of wood, plastics or metal.
Special formwork
We make formwork for complex components and assemblies such as industrial furnaces, combustion equipment or chemical plants – using wood, plastics, EPS or metal, depending on the application.
Parts made of wood or plastics
We make wooden or plastic parts of any shape to customer specifications.
Pattern development and design
For a smooth production process, it is paramount that the casting process, including the tooling, be properly designed and the components carefully planned. Here we can support you with our expertise and proficient advice. We not only develop patterns from scratch but also revise, modify or repair existing ones. If you desire specific advice, are interested in having a sample item made or are looking for a competent foundry or a person of contact from our customer base, we are happy to help you.